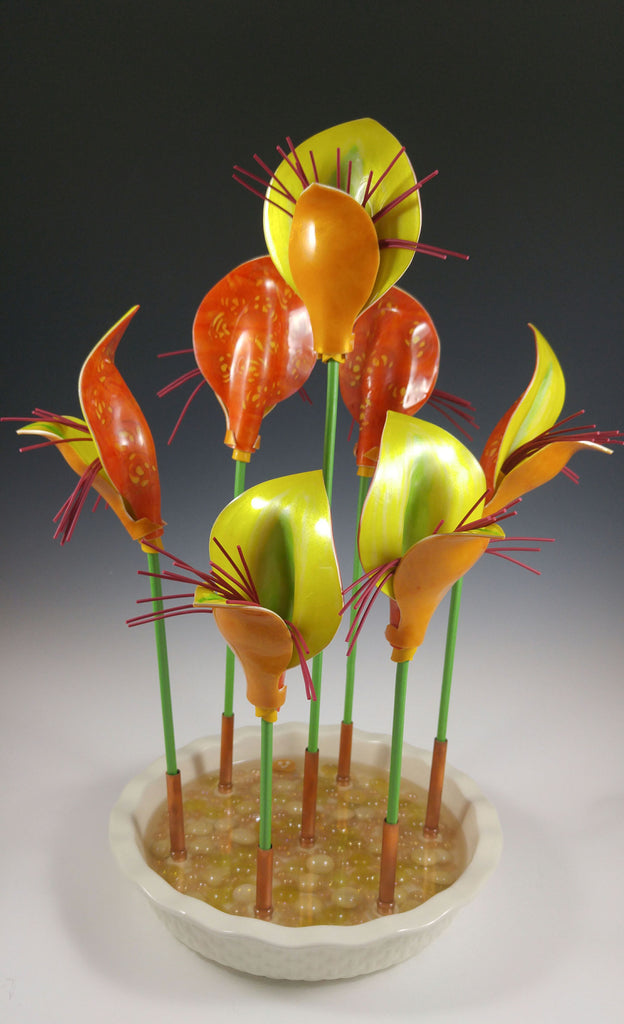 "Sassy Frass"
Sassy Frass is bright and cheerful and ready to make your morning - or entire day - a little better.  The backs of her large petals are a rich, painterly orange dotted with bits of pale yellow. And, even from her backsides you can see her long 'whiskers' popping out with attitude. The fronts of her petals are a bright, pale yellow with a tint of green along her back spine.  It's almost like she has a mouth or gullet and is saying good morning with her weird, whiskery deep magenta profusions.  
Sassy Frass sits on tall green stems held by copper metal stem holders mounted in clear glass-like 'water' (resin) that is filled with very pale, clear pink and solid ivory marbles. Her container is ivory ceramic with a rattan weave texture around the base and a fluted rim. The container has a slight but inconsequential crack that adds to the tale that she's telling.  Many of the containers I use are re-purposed so may have a history. 
Dimensions:  Footprint, 11" diameter; She stands 20" high at her peak.