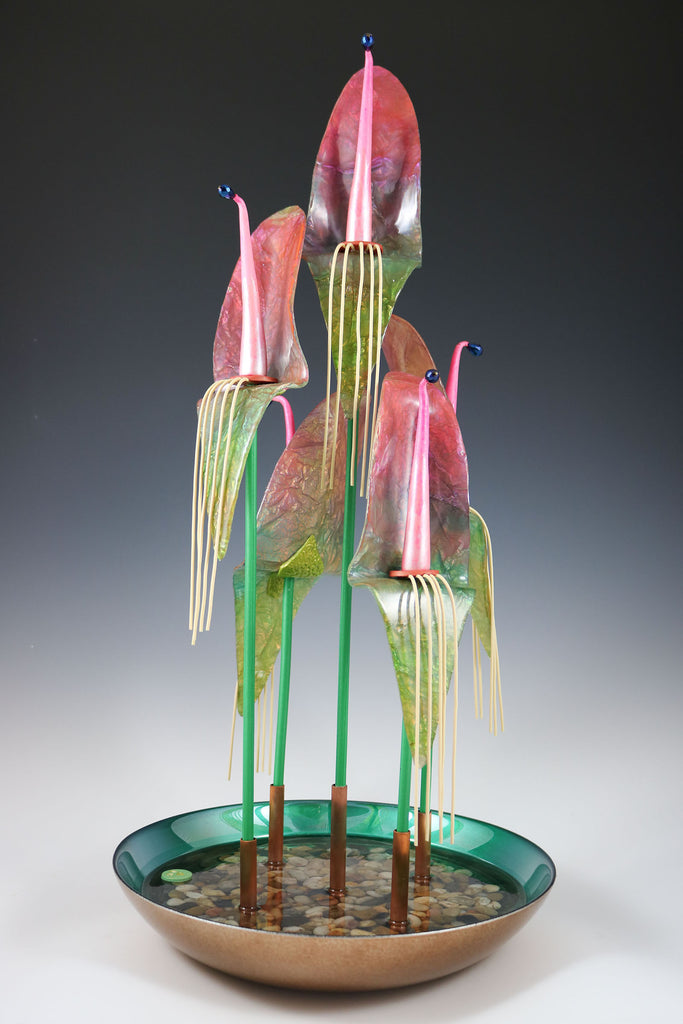 "Bearded Sadie"
"Bearded Sadie" was so much fun to create!  She has a tall, bright pink stamen that is sitting in a throne that transitions from pink to purplish-blue to green.  Her 'beard' drapes over the base of her throne and let's you know that she is full of whimsy.  Slightly tanslucent, light diffuses through her throne so she is ever changing throughout the day.  At the very tippy top of her stamen is a shimmery dark blue glass crystal bead.  She makes a wonderful conversation-starter!
Bearded Sadie rises strong from a glass container that is turquoise rimmed and coppery on the outside.  The metal tubes that hold her stems are embedded in river rocks.
As with all of the table top pieces,the stems are removable for easy cleaning and in case you want to re-arrange the flowers.  The 'pieces' ship separately to prevent the sturdy stems from bending and to ensure that the container arrives safely.  This also adds to the play value of the piece since there is slight movement of the flowers.  
Dimensions:  Footprint, 10.5" diameter; She stands 22" high at her tallest point.