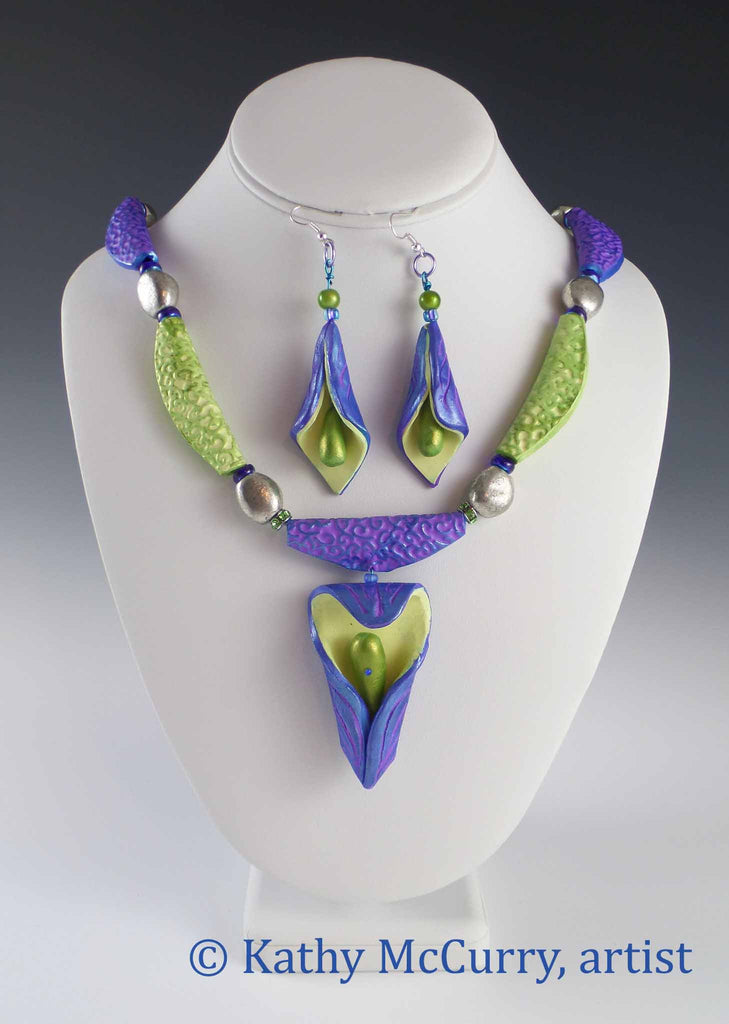 Jill-In-The-Pulpit
When I was very little, my best friend and I would go on adventures in the woods near our houses.  We'd discover all sorts of things from Indian arrow heads to old cobalt blue medicine bottles.  We'd look under rocks for salamanders and try to avoid the giant skunk cabbage leaves. But one of our favorite things to discover each spring were the Jack-in-the-Pulpit and the delicate Lady Slipper flowers that grew wild in the damp shade of the woods. This memory inspired my creation of "Jill-In-The-Pulpit".  In addition to the focal piece, the long beads are all handmade.  This piece is fun and very feminine.  
One of a kind, hand designed and created using:  polymer, metallic glazes and there is a tiny blue CZ embedded in Jill.
This necklace is adjustable from 21 1/2"-23 1/2" long, which makes it hang fairly low on the body.  I'd be happy to work with the you on shortening the necklace length before shipping.  
Dimensions for the focal piece:  1 1/2"w x 2 1/2"h;  The earrings hang 2 1/2" down.
The set includes the necklace and earrings.