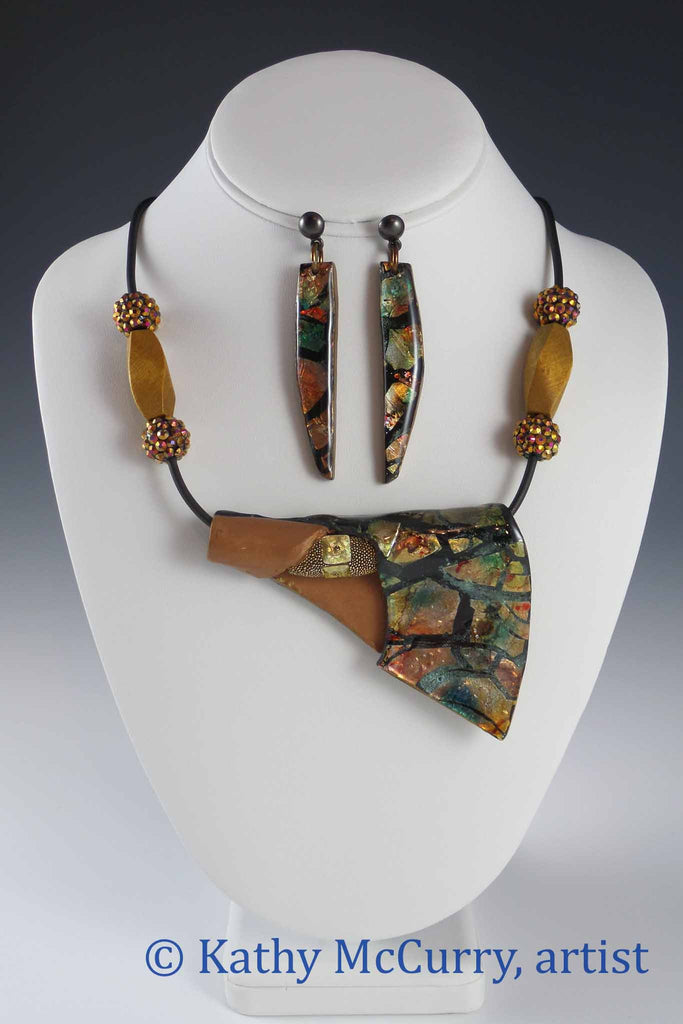 Midnight in Casablanca
Casablanca... mysterious, a contrast of dark shadows and sparkling lights... there is a sultry quality to the atmosphere.  I tried to capture this essence in this necklace and earring set.  The focal point is folded over at an angle revealing a small brass bead tucked in the fold.  The black portion of the piece sparkle and change colors in different light and from different angles. There are two 'spiral' wooden beads that frame the piece.  Very sultry.  This necklace and earrings look stunning when worn - it is dramatic and yet sophisticated in design.  There is only one of these designs.
One of a kind, hand designed and created using:  polymer, resin, metallic glazes, glass embellishment, metallic foil, cording.
This necklace is adjustable for  20-22" long, which makes it hang fairly low on the body.  I'd be happy to work with the buyer to shorten the necklace length.  
Dimensions for the focal piece:  3 1/2"w x 2 1/2"h;  The earrings hang 3" from top to tip.
The set includes the necklace and earrings.