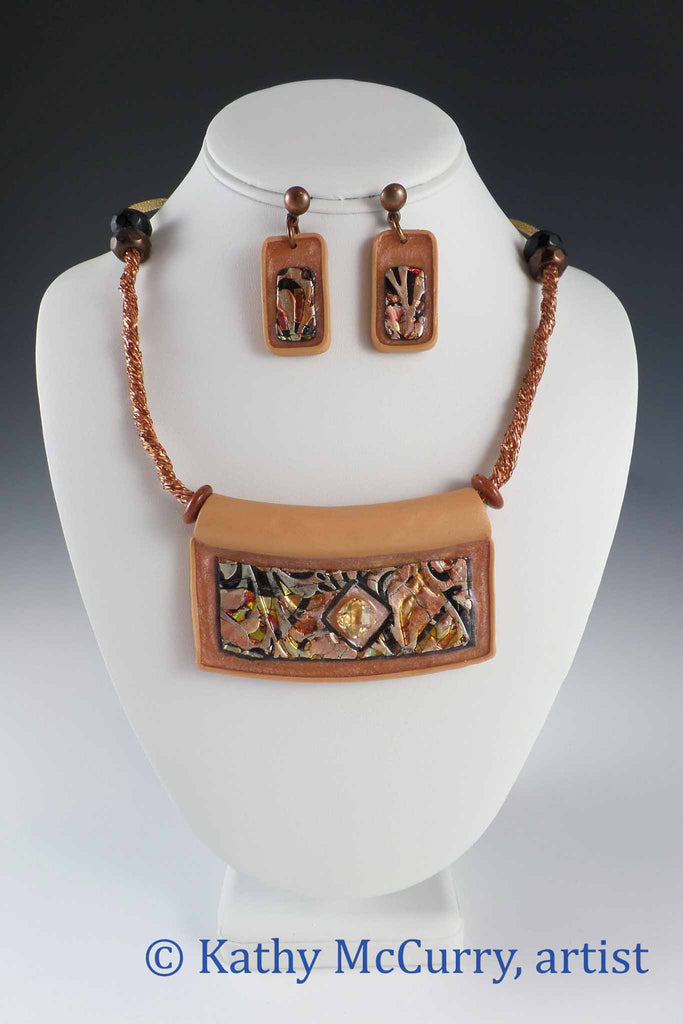 Marrakesh Magic
You can almost smell the incense as it mingles with the spices being used to cook over open pits despite the intense heat.  The shadows of the overhanging tents that create the souks hide all sorts of mystery and intrigue. Rugs piled high, hand hammered silver and brass bowls and trays, the promise of treasure all around, light filtering through thick dust motes.  The atmosphere is somewhat cloying but is so exotic and vibrant that we are totally immersed in it.  
I tried to capture this essence in this necklace and earring set.  The frame of the focal point is the color of desert sand and the image within uses a holographic film crackling over black and has a pattern reminiscent of an exotic rug.  The treasure in the center is a pale peach colored 10mm cubic zirconia that sparkles with color.  This necklace and earrings look stunning when worn - it is dramatic and yet sophisticated in design.  There is only one of these designs.
One of a kind, hand designed and created using:  polymer, resin, metallic glazes, holographic film, 10mm CZ, twisted copper cording.
This necklace is adjustable for  21-22" long, which makes it hang fairly low on the body.  I'd be happy to work with the buyer to shorten the necklace length.  
Dimensions for the focal piece:  3 7/8"w x 2 "h;  The earrings hang 1 3/4" from top to tip.
The set includes the necklace and earrings.