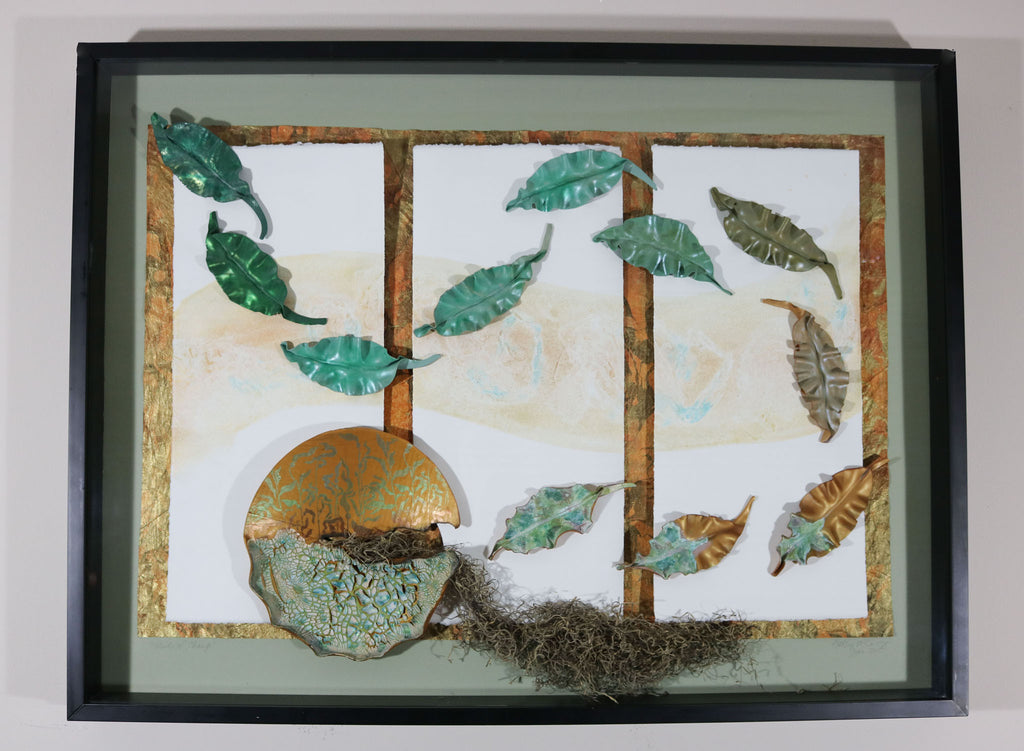 Winds of Change
The Winds of Change blow gently as the seasons advance and pass.  This piece shows beauty at each stage, from the vibrancy of new growth through to the crackled surfaces that reveal a depth and complexity earned along the journey.  
This is a dimensional mixed-media wall piece that integrates watercolors, acrylic paints and mediums, hand-made imported paper, polymer, metallic glazes and mica powders.  The Spanish Moss flows from the once beautiful and now 'crusty' broken bowl.  The watercolor tri-panels are elevated from the background of the piece further adding to the dimensionality of the overall design. I conceive, design and make all of the individual elements, create the watercolor texture that runs across the back and construct the piece.  The soft water color wash uses some gold metallic pigment to create a subtle shimmer from certain angles.  
When possible (read: if I remember ;), I take photos of the elements during the process of creation.  Since it's difficult to photograph a shadowbox piece that is behind glass, I've also included some photos of the elements that I took along the way to help you see some of the intricate details of this elegant piece. 
This piece measures 42"w x 32"h and about 3" deep.  It comes framed and ready to hang.  
NOTE: THIS PIECE HAS SPECIAL SHIPPING REQUIREMENTS.  PLEASE EMAIL ME USING THE "CONTACT KATHY" ICON BELOW TO OBTAIN A SHIPPING ESTIMATE. INCLUDE YOUR CITY, STATE, ZIP CODE AND THE NAME OF THE PIECE YOU'RE INTERESTED IN.  THANK YOU!