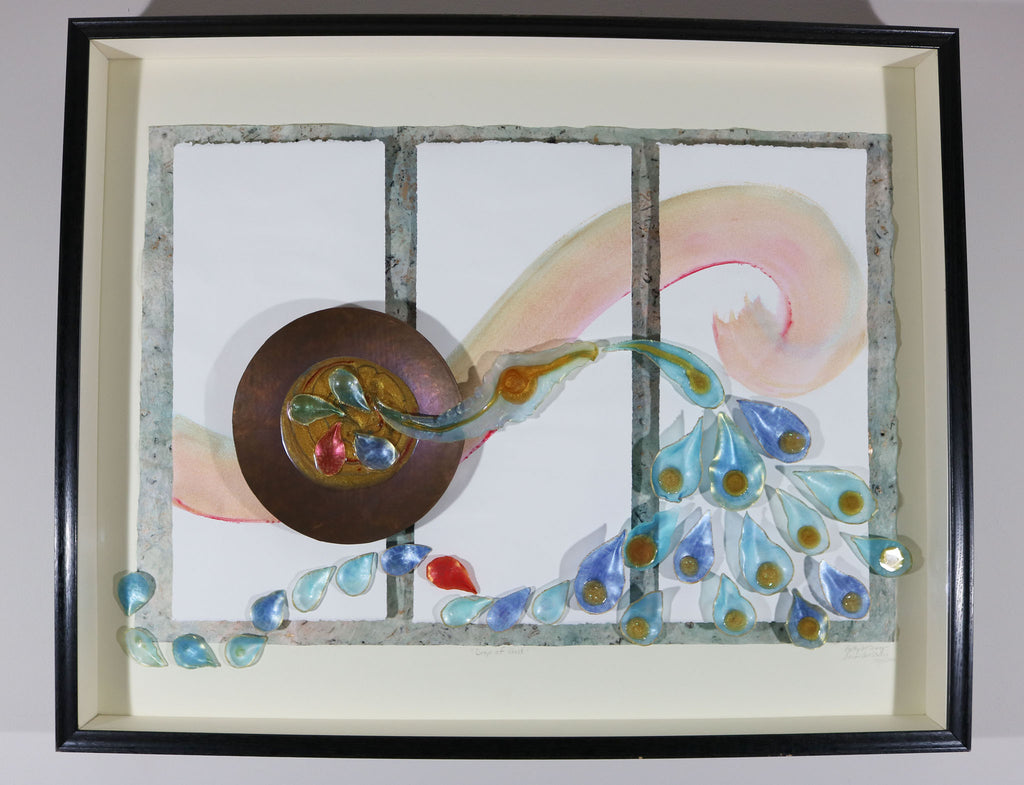 Drops of Gold
Bubbling up from a rich bronze bowl are fresh drops of water - each containing a drop of gold.  A small elixir.  Refreshment and bounty spring forth with abandon.  Ah, but within the stream swim lone red drops to remind us that our differences can make us stand out from the rest and still contain our own beauty.
This is a dimensional mixed-media wall piece that integrates watercolors, acrylic paints, hand-made imported paper, polymer, metallic glazes, resin and mica powders.  The watercolor tri-panels are elevated from the background of the piece further adding to the dimensionality of the overall design. I conceive, design and make all of the individual elements, create the watercolor wave that runs across the back and construct the piece.  The soft water color wash uses some gold metallic pigment  and interference acrylic to create a subtle shimmer from certain angles.  
This piece measures 42"w x 34"h and about 3" deep.  It comes framed and ready to hang.  
Please note that some of the close-ups are photos I took while I was creating the piece to provide you with a better view of the details than what the camera can capture behind the glass in the frame.
NOTE: THIS PIECE HAS SPECIAL SHIPPING REQUIREMENTS.  PLEASE EMAIL ME USING THE "CONTACT KATHY" ICON BELOW TO OBTAIN A SHIPPING ESTIMATE. INCLUDE YOUR CITY, STATE, ZIP CODE AND THE NAME OF THE PIECE YOU'RE INTERESTED IN.  THANK YOU!